Handmade Studio Racks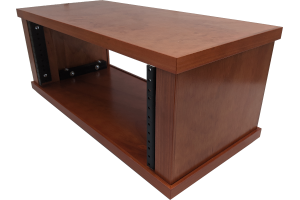 Premium Rack Series
Furniture quality studio racks. Custom made 2U up to 18U. Your choice of stain color, depth, handles and casters.
5 Star Rating on


★★★★★
Absolutely superb product, lighting fast shipping. Blown away, quite frankly. Will buy from Melodic Roots again if I ever need another studio rack. (Andrew H. – May 6th, 2020)

★★★★★
Amazing work!! Customer service was great!! I had a rush job with a deadline that they actually got to me earlier than expected! Packing job was the best yet on reverb. (Natalia G. – Sep 19th, 2020)

★★★★★
Fantastic build quality and workmanship. Matt is great to work with. I can't recommend him enough. Thanks Matt!! (Chad P. – Mar 3rd, 2020)

★★★★★
Great looking very solid rack. Perfect pack job. No chance of damage. Professional all the way. Wish all sellers were like this. (Mark Z. – Apr 10th, 2020)

★★★★★
Excellent product. Very well made and well packed. Highly recommended. (Matt C. – Jun 18th, 2020)

★★★★★
Solidly built. Looks great! Great communication. (David P. – Jun 22nd, 2020)
What is a Studio Equipment Rack?
A 19″ studio rack is standardized mounting system to hold rackmount equipment for music studios, recording studios, audio production and homelabs. Server cabinets are also 19 inch racks that contain rackmount servers and LAN equipment. Musicians who play guitar use studio equipment racks to hold rackmount effect units, rackmount amps and other rack equipment. Many names are used to describe the standard 19-inch rack: studio rack, equipment rack, technical rack, pro audio rack, rack case and rackmount case.